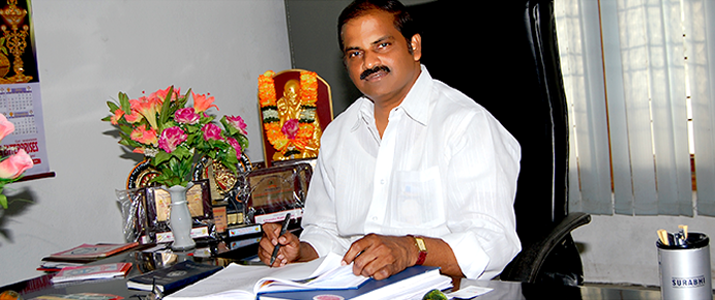 A Doyen in the field of education is the chief mentor of Priyadarshini Group of educational institutions. His in-depth and valuable experience and expertise in academics is the key driving force in shaping PRIYADARSHINI INSTITUTE OF TECHNOLOGY AND MANAGEMENT Engineering College which imparts quality education to the students on par with national standards. He is highly committed to deliver the students high quality tuition, while carefully monitoring their academic and social welfare.
The chairman Sri.Ch.Rama Rao, who is an eminent academician and mathematician of reputed envisioned PRIYADARSHINI, his brainchild in to a premier over the years He is often referred to as a work aholic strategist whose name synonymous with perseverance, determination, dedication and meticulous approach. As a result, PRIYADARSHINI today had joined the top league of some of the best academician institutions in educational arena.
He attained immense popularity both from the student and the parental community alike for his extraordinary harmonious attitude towards student-centered problem and complaints .his strong resolve and innate crave for excellent results pushed the students to achieve state Ranks.
His missionary zeal of providing cutting-edge educational standards had launched many young lives and elevated PRIYADARSHINI College in to boon for the young aspirant's highest success.
PRIYADARSHINI INSTITUTE firmly believes that its graduates are an emissary to the engineering industry, and so, there are no efforts spared to ensure that you will have a benefit of a 'complete Engineer'.
The faculty of high caliber who produce meritorious results to the infrastructure PRIYADARSHINI College. College stood as a unanimous choice of parents and students alike.
We endeavor to equip our graduates with both technical knowledge and skills, at the time horning their management talent, so they may contribute to the industry, while achieving excellence as professionals. They go on to perform successfully as engineers in various industries .In an era of stiff competition, success can only be achieved if one makes the right kind of Endeavor at the right time in right direction." Success will never lower its standard to accommodate us. We have to raise our standard to achieve it".